Request Call Back
Contact us today if you're looking for any related Services.
Your 360° Digital Partner
Crafting Excellence for All Your Needs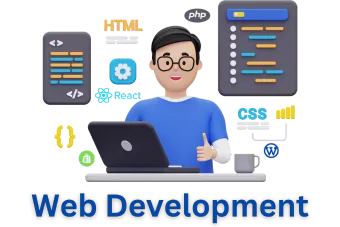 Design. Impress. Succeed.
Elevate your online presence with our web development expertise. We craft stunning, responsive websites tailored to your brand's unique identity and goals.
With a focus on user experience and functionality, we create web solutions that captivate your audience and deliver exceptional results.

Explore Now
Innovate. Create. Thrive.
Transform your app vision into reality with our cutting-edge app development services. We specialize in creating user-friendly, feature-rich mobile and web applications that engage users and drive results. From concept to launch, we're your dedicated partner in app success.


Explore Now
Precise. Proven. Perfect.
Ensure flawless performance and reliability with our top-tier Quality Assurance and Software Testing services. We meticulously evaluate and validate your software, apps, and websites to identify and eliminate issues, ensuring a seamless user experience. Trust us to maintain the highest quality standards for your digital assets.
Explore Now
Comprehensive Roadmap to Client-Centric Excellence
Understanding the Client's Vision:
Begin by understanding the client's vision, needs, and goals for the project. This step lays the foundation for a successful partnership.
Conceptualization and Planning
Translate the client's vision into a detailed project plan. Document the requirements, features, and specifications that will guide the development process.
Strategic Project Planning
Develop a comprehensive project plan that outlines timelines, milestones, and resource allocation. Ensure that the plan aligns with the client's objectives and expectations.
Architectural Blueprint
Create the architectural framework for the project. Design the technical infrastructure and system layout that will support the development and functionality of the digital solution.
High-Quality Development
Begin the development phase, focusing on delivering high-quality code and features. Regularly review progress to ensure it aligns with the client's vision and project plan.
Rigorous Testing and QA
Conduct rigorous testing, just like a gorilla, to identify and address any bugs, glitches, or performance issues. Ensure that the digital solution meets the highest quality standards.
Ongoing Support and Maintenance
After successful delivery, provide ongoing maintenance and support. Be ready to address any issues, updates, or enhancements that may arise to ensure the long-term success of the project.
Technologies we work with


















Got A Project?
Let's Talk About It
Whether you have a brilliant idea or need a remote dedicated team,
reach out to us to discover what we can achieve together.

Email us- info@perfelite.com

What You'll Receive:
On-Call Inquiry Assistance
Project Consultations
Detailed Estimations"